There's no shortage of star power on Broadway, but there are several shows/stars this season that really stand out: the amazing Audra McDonald and Norm Lewis in the Porgy and Bess revival, which also features stunning portrayals by David Alan Grier as Sporting Life and Phillip Boykin as Crown — all Tony-nominated; young English comic James Corden, giving a Tony-nominated performance that will have you falling out of your seat and rolling on the floors in One Man, Two Guvnors, is a welcome presence to the season. He works hard for his money but gets a lot of competition from his cast — especially the Tony-nominated and very nimble dodderer Tom Edden [as Alfie], a master of physical comedy.
Other superlative Tony-nominated performances have arrived via stage, film, and TV veteran John Lithgow as '60s controversial political writer and powerbroker Joseph Alsop in The Columnist; stage, film, and TV veteran James Earl Jones as a former President of the United States in the revival of Gore Vidal's The Best Man.
There's also Stockard Channing, Stacy Keach, and Judith Light in Other Desert Cities; and newcomer, direct from her West End Olivier-winning performance, Tracie Bennett offering her amazing transformation into Judy Garland, drunken and pill-addled escapades, warts, and all, in End of the Rainbow [frankly, the play would be better if we saw more of Garland's humor and heart instead of all her desperate foibles in her sad last days].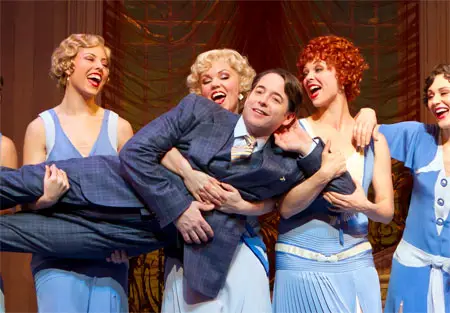 Not enough can be said of Matthew Broderick's incredible performance in Nice Work If You Can Get It, which was shamefully not nominated [you have to wonder if the Tony nominators were asleep!]. Co-stars Tony-winners Michael McGrath and swinging Judy Kaye (a Tony winner for The Phantom of the Opera) are no slouches in the do-anything-for-laughs category and they do it so effortlessly and flawlessly.
Then, Off Broadway, in Tribes, there are memorable portrayals by Jeff Perry and Russell Harvard. Nina Raine's Drama Desk winning Outstanding Play, gives dysfunctional families new definition. It's directed by Drama Desk nominee David Cromer in a setting that surrounds audiences, presented by Barrow Street Theatre at Greenwich House, at 27 Barrow Street [at the corner of Seventh Avenue South, one block South of Christopher Street].
Tribes's marvelous cast is comprised of Will Brill, Russell Harvard, Jeff Perry, Susan Pourfar, Gayle Rankin, and Mare Winningham. It focuses on Billy, a young deaf man raised in the confines of a idiosyncratic and politically incorrect family. Though he's adapted to his hearing family's unconventional ways, they've never returned the favor. It's not until he meets Sylvia [Pourfar], who's on the brink of deafness, that he finally stages a rebellion that tears the family further apart.
A 2012 Theatre World Award honoree for Outstanding Off-Broadway Debut Performance, Harvard is a real-life deaf actor. Pourfar receives the TWA 2012 Dorothy Loudon Award for Excellence in the Theater.
Behind-the-Scenes at Clybourne Park
Discovery Communications' HowStuffWorks is presenting a special behind-the-scenes perk for theater lovers, especially those curious about "How'd they do that?" in stage productions.  The all-new Stuff You Missed in History Class podcast entitled A Visit to Clybourne Park, can be viewed on www.HowStuffWorks.com and downloaded from iTunes.
Pulitzer Prize-winning and Tony Award-nominated Best Play, Clybourne Park by Bruce Norris world premiered Off Broadway at Playwrights Horizons in 2010 followed by a critically-acclaimed pre-Broadway engagement at Center Theatre Group/Mark Taper Forum in L.A. The play also won an Olivier Best Play Award for its London production. It opened to ecstatic praise at the Walter Kerr Theatre on Broadway with its original 2010 cast: Crystal A. Dickinson, Brendan Griffin, Damon Gupton, Christina Kirk, Annie Parisse, Jeremy Shamos and Frank Wood. Shamos is Tony nominated for Best Featured Performance (Play).
The podcast offers a rare glimpse into how Tony-nominated scenic designer Dan Ostling's 1959 suburb living room transitions 50 years to 2009 during the 15 minute intermission. Act 1 introduces nervous community leaders who try to stop the sale of a home to a African-American family; Act 2 is set in the same house in 2009 as the now-predominantly African-American neighborhood battles to hold its ground in the face of gentrification.
www.HowStuffWorks.com features themed blog posts inspired by the play: This Old House, in which Tony-nominated director Pam MacKinnon discusses America's history of racial bias as countless neighborhoods transitioned from white to black; The Hansberry Connection, which examines A Raisin in the Sun playwright Lorraine Hansberry and how the events of her personal life [as presented in that classic and landmark play] parallel those facing the characters in Clybourne Park; and Pure Drama, which delves into A Raisin in the Sun and its connection to the play.

Related Posts: