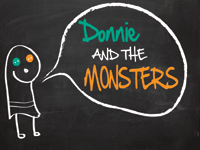 Due to an overwhelming audience response, sold-out performances, and critical acclaim Donnie And The Monsters (written by Robert J. Gibbs and directed by Heidi G.Grumelot) has been extended for two ADDITIONAL PERFORMANCES!
Sat October 2 at 8pm
Sun October 3 at 7pm
Read my review and then go check out the show!!!
~~~
DONNIE AND THE MONSTERS
WRITTEN BY ROBERT J. GIBBS DIRECTED BY HEIDI G. GRUMELOT Presented by Horse Trade Theater Group UNDER St. Marks 94 St. Marks Place (between 1st Ave and Ave A)
. . .
Tickets ($18) are available by calling Smarttix at 212-868-4444
click here

Related Posts: